Your connection to the Mississippi Equine Industry. A private nonprofit that offers the "SADDLE UP License Plate", develops programs for Trails, Health & Welfare, Horse Owners, Youth and Legislation. We are an all-breed, all-discipline organization managed by a Board of Directors and operated out of an office in Brandon, Mississippi.
Your membership and donations to the Mississippi State Equine Association support the Mississippi Equine Industry's health and sustainability.
MSEA Supports the MSU Riding Program
James Rasberry, president of ms state equine association, presenting a check for 1000 to Cassie Brunson in support of the the therapeutic riding program at ms state university we are proud to be able to support this program each year the proceeds of the saddle up tag sales allow us to do this.
2019 Breakaway Roping Rookie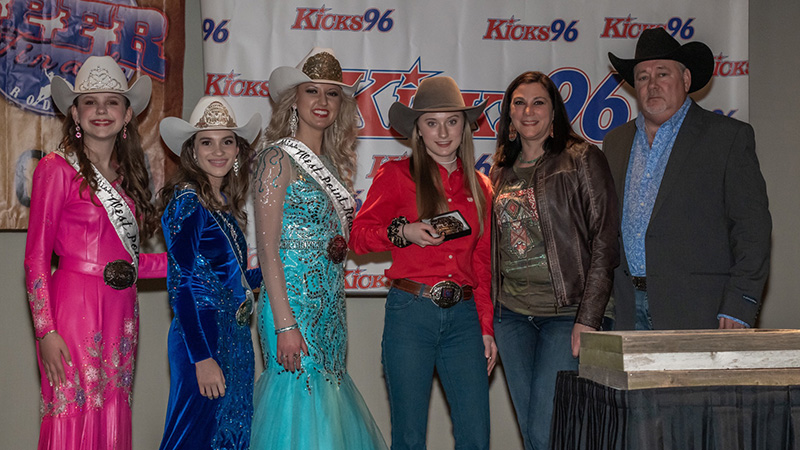 My Name is Maelee Wade, I'm 14 years old and in the 9th grade. This is my first year as a regular member of the Southeastern Professional Cowboy association. The rodeo season runs March to October and in that time I won or placed at multiple rodeos that secured my spot to the finals that were held January 31 & February 1st at the Neshoba County Coliseum in Philadelphia MS. The first go of the finals I split 1st place, the second go I won 3rd and ended up 2nd in the average. I also ended the year as the Breakaway Roping Rookie of the year. Thank you so much for your support for the Breakaway Roping and the SPRA! Buckle was sponsored by MSEA.
Sarah-Ashlyn Barber Chosen As A Recipient Of The MSEA Endowed Scholarship
Letter From John Blanton Jr. - Professor and Head of Animal And Dairy Sciences At MSU
Governors Inaugural Parade
Any riding clubs or equestrian groups that would like to ride in the governors inaugural parade or individual horse riders, mule riders, wagons, or trail riders, it is Jan 14 at 2pm in Jackson, MS. Please contact me at rasberryinc@yahoo.com or my cell number 662.582.0431. We would like to have a real good participation supporting our new governor.
High Point Winner In Men's Division at the Mississippi State Horse Show
This is Adam Alexander who won a saddle by exhibiting in western pleasure judged classes; Jr. Western Pleasure, Sr. Western Pleasure, 2 & 3 Year Old Western Pleasure, Walk Trot 18 & Over. A combination of his placing awarded him High Point winner in Men's Division at the Mississippi State Horse Show in September, 2019. He is from Kosciusko, MS
Mississippi State Equine Association room at the brand new Animal and Science building on the campus at MSU
Infinite Impact Campaign Donation Letter
(click to enlarge)
MSEA Presents Donation to MSU Equestrian Riding Team
James Rasberry, President of MSEA, presented a donation to Professor Clay Cavender of the Equestrian Riding team at Mississippi State University in the amount of $1,000. This donation helps with the expenses for traveling and related fees. Our goal is to support equine events everywhere we can help. All of the proceeds of the sales of the SaddleUp car tags are returned to the equine industry.
Fundraiser for the Therapeutic Riding Program
MSEA donated license plates 2 and 7 for the fundraiser for the Therapeutic Riding Program at Mississippi State University. Pictured are Thomas and Terri Nusz, along with MSEA President, James Rasberry and MSEA Executive Director, James Watts. Proceeds went directly to the program. The tags sold for a combined $2,050. MSEA thanks them very much for their support.
Also at the fundraiser, President of MSEA, James Rasberry is with Carter Clark, a student at Mississippi State University who volunteers with the program and also the granddaughter of James Rasberry, and Cassie Brunson, Director of the riding program.
Hope Rides Here Event
Saturday, October 12, 2019 at 6:30 PM – 10:00 PM CDT
The Mill at MSU - The Mill Conference Center
Hosted by MSU Equine Assisted Therapy Programs
The core focus of the Therapeutic Riding program as well as the Veteran's Horsemanship program is to create an environment for positive healing and empowerment.
Cindy B. Renfrow, South Central MS Horsemen Association
Dear James and James:

On behalf of our South Central Association, I would like to thank the both of you for your generous contribution you made to our group! While I now remember you doing it in the past, this was not expected. With the season over and awards being ordered, our bank account is on the low side. This will definitely help with the start of our new season, which we hope to start in October.
Christmas Card From Mississippi State University
Endorsement Letter from Cindy Hyde-Smith, US Senator
Dear Mr. Rasberry:

It is an honor to write and congratulate you on the success that has been achieved by the Mississippi State Equine Association.

As the former State Commissioner of Agriculture and Commerce, it was always a great pleasure to work so closely with the Mississippi State Equine Association.
GET YOUR "SADDLE UP" LICENSE PLATES NOW! WEAR THE PLATE!
The MSEA Saddle Up license plate funds the Mississippi State Equine Association, helping Mississippi horse owners, equine businesses and associations, and the welfare of Mississippi horses.
Ask your county clerk for it when you register your vehicle.
Personalization:
This plate is available for personalization with an additional $31.00 application fee annually. Application for personalization must be made at your local County Clerk's office. This personalized plate is limited to a maximum of 5 characters.
More Information:
For more information about the MSEA Saddle Up License plate from the State of Mississippi Department of Revenue.
Reserve World Champions At USTPA 2017 National World Championship Show

James Rasberry (from left), Katie McGuffin, and Dustin Johnson.
Reserve World Champions At USTPA 2017 National World Championship Show at Fort Worth, Texas
James Rasberry Is MSEA President
"Rooster" Rasberry always got up too early. That's what his mother said, and that's why she nicknamed him when he was about two or three years old.
Maybe that's why James S. Rasberry is an accomplished builder… and builder of many things. James is the President of the Mississippi State Equine Association and for lots of reasons.
He was on his father's framing crew when he was l5 years old, and was trimming homes in his native Attala County when he was 20. Three years later, James was still getting up early, feeding the horses and starting his own construction company. By 1985 "Rooster" Rasberry was the youngest President ever elected from the 2,000-member Home Builders Association of Mississippi.
During that time two of his three daughters started riding competitively. It was a weekend ritual to load horses "early" and travel anywhere in Mississippi for a horse show, and get back home at 2 or 3 a.m. While the girls were barrel racing and riding western pleasure, Rasberry introduced himself to a sport that was new to the State of Mississippi in the early 1990's. Team penning was a new craze that had just reached Mississippi, and he said, "it spread like wildfire."
MSEA Sponsors SAFE Horse Auction in Jackson
The Mississippi State Equine Association is again sponsoring the auction of Mississippi's Safe Horse Sale in at the Kirk Fordice Equine Center in Jackson, MS. . Stephanie Billingsley is Chairman of the project, and "welcomes" all equestrians to attend the sale (with trailers) from 9am - 4pm on Saturday, May 19th, 2018.